Eutility is pioneering innovation in the energy industry through there in-house developed price management platform "My Market Manager".
This easy to use platform consistently monitors your position in the wholesale energy market and sends you alerts when the market moves significantly against your position, removing any potential price shocks in a rising market and alerting you to an opportunity of a falling market.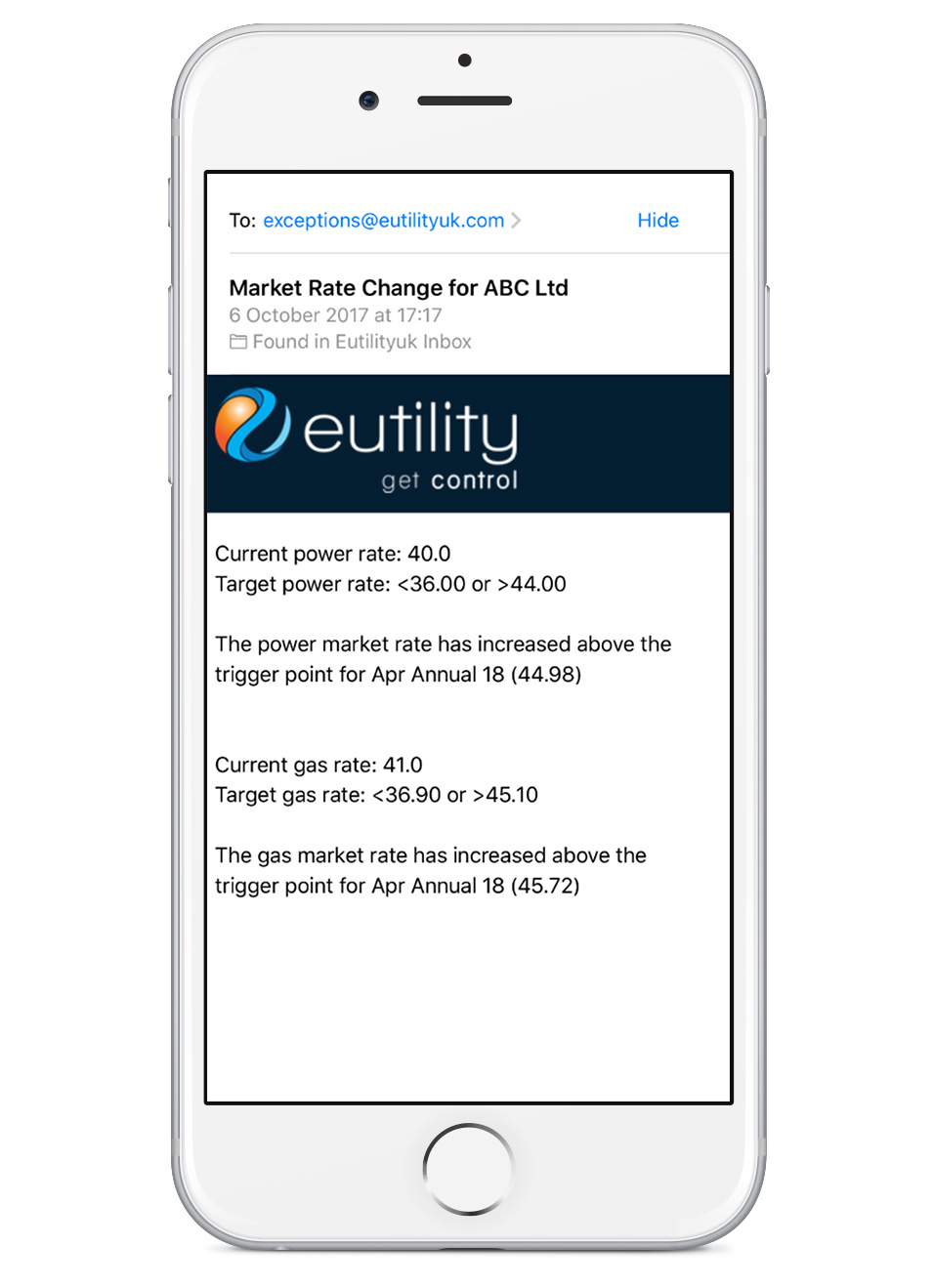 Receive alerts real-time to your email or phone
By having all the information on the market in a user-friendly format we make the management of energy accessible and easy.
You can manage your position online by reviewing and setting your parameters.
Receive alerts real-time to your email or phone.

Control your energy cost by having greater visibility.
Eutility provides a comprehensive suite of energy reports enabling our clients to monitor and target energy consumption resulting in substantial savings and budget performance.
Manage and control your energy through:
Cost and consumption reporting
Consumption
Trigger reports
Carbon emission reports
Budget forecasts
League table reports
Trend summaries
Budget tracker
Rebilling reports
Consumption
Exception reports
Interval data mapping
Bureau & Forensic Analysis
Due to the complex nature of the billing systems of UK energy suppliers, Eutility check and validate every invoice, credit note, statement of account and re-bill against interval data, contract parameters and published network tariffs to ensure that any billing anomalies are fixed and owing monies are rightfully received.
Eutility regularly received credits on behalf of their clients consistently proving value through service delivery.
Compliance
Unrivalled CRC reporting platform Make sure you are compliant with all energy legislation. Eutility is known for being ahead of the curve when it comes to legislation and how this impacts your business. This is why Eutility has an unrivalled CRC reporting platform and were one of the first consultancies to complete ESOS audits.
Ensure that you get the full benefit of your ESOS obligations. Eutility consistently delivers quality ESOS reports and were among the first to submit a report to the new scheme We are now initiating phase 2 reporting for clients.